So...We, and when I say we I mean:

Rhonna

,

Liz

,

Jefra

and

myself

, have been working on an amazing event...
Spark!
What is Spark

?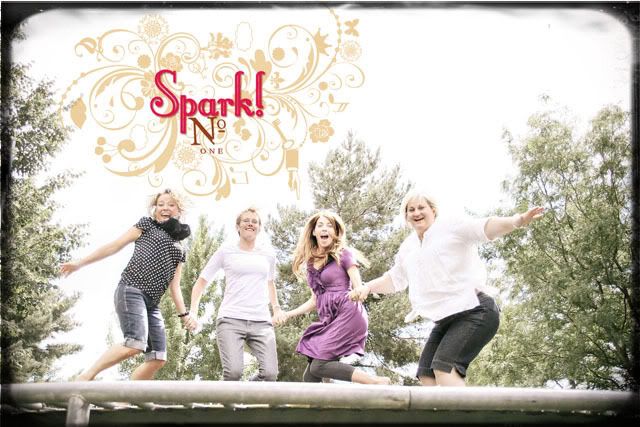 Spark

is a creative journey...

Spark

is a creative lifestyle...

Spark

is about being a creative woman.

Spark

is about being inspired by other creative women...

Spark

is about sharing creative ideas...

Spark

goes way beyond paper and glue...

Spark

is getting in touch with your creative spirit...

Spark

is going to be amazing...

How did Spark come about?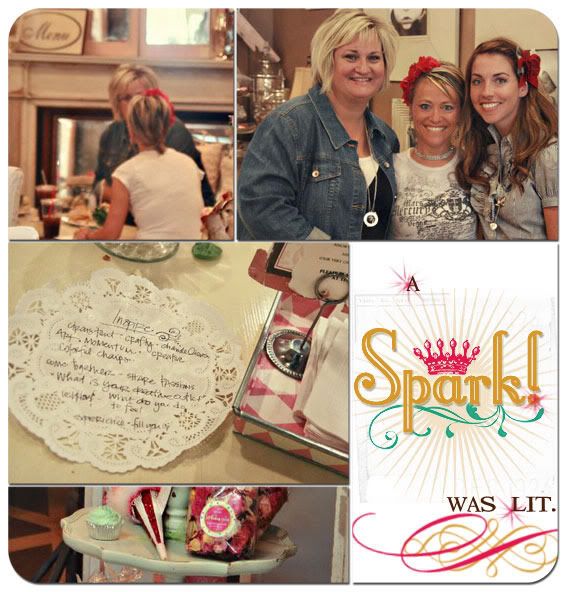 Like most creative thoughts

Spark

was an idea that came from a Lunch with girlfriends. Rhonna, Liz and I got together to have lunch in one of my favorite, beautiful and inspiring places...We were surrounded by inspiration and filled with ideas...And like fire the

sparks

flew between us and

Spark the Event

was born! We invited Jefra to be part of

Spark

and have been working on it non-stop!


Where is Spark?
Spark

is going to be held in one of Utah's most beautiful settings...This is the place...And it is the place...Jefra and Rhonna found it and Liz and I went there yesterday and we know it is the place for

Spark

! This is the place will be a perfect setting to create and be inspired by the beautiful surroundings and history there.




Who is Spark for?




Spark

is for all creative women...

Spark

is for women who create in any way.
Spark
is for artists, for photographers, for musicians, for writers, for gardners, for decorators, for poets...
Spark
is for all types of creative women. As women we have a creative

Spark

within us, at
Spark
the Event we will cultivate, learn, share, extend, develop and be inspired to live a life creative...
If you are reading this
Spark
is for you...

Details...
Date:
November 6 & 7th 2009

Friday:
November 6th Welcome to
Spark
!
1:00 p.m.~
Registration
(more info to follow)
1:30-5 p.m.~
Show & Tell:
**
Spark
your creativity with artisans' demonstrating their talents with hands-on mini class demos.
5:30-6:30 p.m.~ dinner
7-8:00 p.m.~
Let the Shenanigans begin
!

Fun filled evening that will help you get your
Spark
on!
let the party continue til midnight!


Saturday:
November 7th
9:00 a.m.~ Amazing Keynote Speaker:

Cassandra Barney.

a woman artist who

speaks

to our creative souls! We are sure she will
Spark
our creative spirits! We can't wait!
10-6 p.m.~ Classes all day, 4 total (to be announced) break out groups,
lunch,
dinner,


Show & Tell


& a culminating fireside to
Kindle the Spark
!


Venue:
This is the Place, Salt Lake City, Utah
Cost:
$300: includes all
Spark
creative goodness for both days. (If you are not local & need a hotel, this will be extra. We'll have some more info on that!)


Registration to begin August 24, 2009

(We want this to be an intimate journey, only 150 spots available)

Come celebrate being a creative women with us, take the journey, build a fire, share your
Spark
with others...
I hope I have "
Spark
ed" your interest...
Kiss kiss
m